December 29, 2007

What a crop of beauties I sent to Uni last night. First up is Kate, Kyle Walker's daughter (twin of Kent), then Chloe, Charlie Rowley daughter(nee Swanson), and finally Faith, Fiona Charvat's daughter (nee Swanson).




December 28, 2007

**UPDATED RAR FILE for Grosse Point**

According to a user, my lot was infected somehow with a bug that goes along with removing (an old version of) Dolphin's Sim Controller. I have followed the instructions for removing that and reuploaded the lot. However, if I understand it correctly, anyone already infected with the bug (it adds a Debug-SuperDuperHug menu option on sims) will need to download the newest Dolphin Sims Controller and enter all lots that are infected and save and exit. After all lots are clear, you can safely remove the hack again. Go here to read straight from horse's mouth: Dolphin's Thread

I'm so so sorry that anyone might have been infected by this from my lot

December 26, 2007

I feel the need to tell the story of my 10 baby challenge -- the founding of my Lake Crossing neighborhood, so that I can properly tell some of my sims stories. Check it out here if you are interested: Lake Crossing Chronicles

I've got quite a bit in my head ready to write so there'll probably be 2-3 posts pretty quickly.

December 22, 2007

I think my sims crashing is fixed. It was related to my onboard sound. I put an old Turtle Beach Santa Cruz sound card in, disabled my onboard, and haven't crashed since.

Here's another holidayish bedding for you to enjoy. Click pic to download.




And my vampidemic continues. I'm buying stock in vampicillin. In the first picture she's vamping Keegan who was over with family visiting Indiana. She woke up from her coffin, walked up stairs, and bit him. In the second picture she returned form work with a friend and immediately bit him when he got out of the car. Sigh. He's the ugliest sim in my neighborhood (an accidental adoption) and she adores him, 3 bolts.






December 15, 2007

I am experiencing a few technical difficulties while playing (unexplained random crashes) so I've been playing around with recolors. Here's another holiday bedding for your sims to enjoy. Click the pic to download.


December 15, 2007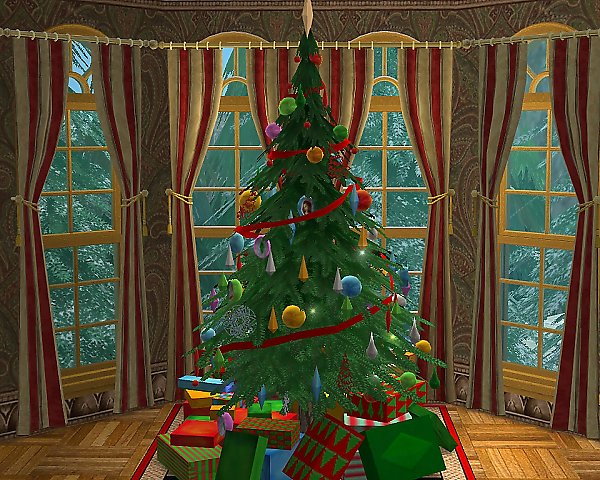 While making my last RIB, I made some extra curtains I really liked and they are just perfect for Christmas.

Click on the pic below to download!






December 14, 2007

Beseiged with ice and snow, I've used some of my time to create a new Room in a Box, the dining room that was long promised. It only has 3 recolored objects, a rug, a painting, and curtains, but I think it really adds some zest to Maxis items, walls, and floors.

Click on the pic to see more pictures and download Jazz It Up!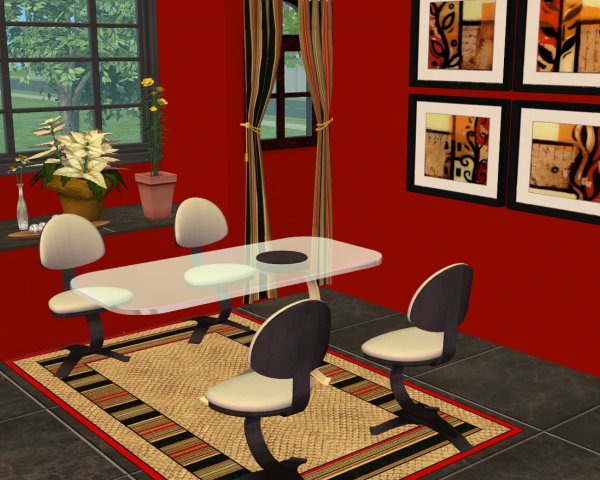 December 10, 2007

'Tis the season. I kept all the downloads that MaxisOfEvil offered during the 2004 Holiday series. Only a few are still up on their site. They'd rather you bought the Holiday stuff pack. Anyway, these were free on their site in 2004. Grab them here.

I realize I'm late with this, but have you all seen Adventures in Dating by Decorgal? I'd seen some of her other movies so knew it would be good but wow, I got SO into the characters by Epsisode 12. The first couple episodes were a little slow (understandably, to set up the characters and scene). After I got to 4, though, I couldn't stop watching. Oh, another one is "just" 10 minutes. And I "just 10 minuted" myself to 1:30 am!

Discuss.

December 08, 2007

Ok, I think I've figured out how to discriminate the comments by entry or page, rather than have all comments adding to every place I put the script. Give it a try, if you will, by captioning this photo:






As a reward, here's a Holiday bedding recolor for you (click pic to download):




November 25, 2007

Thanks for the comments folks! I screwed up and accidentally deleted them. I don't really have a clear understanding about how they work yet. Just so you know, I didn't delete them on purpose :)

November 22, 2007

Happy Thanksgiving to all my fellow American simmers!

My vampidemic continues. Aaron was outside making friends with this neat black dog with yellow eyes when his sister-in-law Meadow walked by. He greeted her and continued petting the dog. She went in the house, then came back out again later and poor Aaron received a bit of a surprise. Or should I say bite of a surprise?




November 21, 2007

More good news! Another phone call, this one from the Dean of Admissions at UCBerkeley!

November 20, 2007

Got my first law school acceptance, by phone, along with a verbal assurance of a full ride scholarship. It's for real! I'll be going to law school Fall 2008! One down, 11 more applications to be determined. It's going to be a long 4 months until everything is said is done. The waiting is tortuous.

November 19, 2007

And finally it is ready for download! Go here for more pics and download link.






November 14, 2007

Do not buy Sim City Societies. It's extremely lame. I can't seem to find anything about it that's "fun." I'll try again, simply to see if I missed something the first 2 hours I played, but don't waste your $50. I wish I could get my money back.



November 6, 2007

Grosse Point is almost done. I have everything but one bathroom and the outside courtyard done but just can't get it finished. Everytime I go into it, I'm not inspired for the finish.

Trying out this comment script. Give it a try.



November 4, 2007

I had a bit of a vampidemic in my hood last night. I went into Ian and Meadow's house, Genevieve the vamp is living with them after an unfortunate sun incident and resurrection, and when I wasn't paying attention (unfortunate consequence of simming while inebrieted), she vamped first Ian, then her sister Hannah who was visiting Meadow, then Meadow! Meadow was quite unhappy about the situation.




October 19, 2007

Got my LSAT score. I kicked its butt, taking no prisoners. I'm still walking on air, almost 8 hours after finding out. I'll be applying to the "big" law schools, with expectation of full ride scholarship somewhere in the top 10. Yeah, I really really did well :)

October 7, 2007

The accursed test is over. I find out my score in a couple of weeks.

Keegan and Sunshine managed to get married after several delays (due to computer upgrade/re-install) and false starts (due to the new ability in Bon Voyage to have weddings on community lots. I've had a couple requests to upload Sunshine and I'll be happy to do so as soon as SimPE is updated so I can extract her to package her up.




I'm finally almost finished with Grosse Point (after a year!). Hopefully it'll be up next week sometime. I'm heading off to Eureka Springs, AR, for a wedding, so I'll be gone much of this week/weekend. Here's a few pics:




September 17, 2007

I've finished my mostly Maxis redo of the Walker House. I also have a maxis only version for those of you so inclined. More pictures and download here




September 14, 2007

I've been simming a bit in between my LSAT study breaks (test is in 12 days!). My newest hottie, Damon, has been breaking hearts throughout Meadow Lawns, an awesome neighborhood by cwykes available at MATY here, and in the new vacation areas. I've had a bit of fun with a sexy outfit by beosboxboy available at Insimenator.




I also have played Keegan, the alien child of my beloved Kyle *grin*, a bit in University. I gave him a makeover using some great hair by Nouk, available at MTS2, and the new facial hair by Maxis available in Bon Voyage. His unintentional girlfriend Sunshine (he was intended for my vampire Genevieve, she's been waiting for him for decades, I don't know how I'm going to break the news) also had a makeover. They've been making out all over University and once they graduate I'm going to check out the new Bon Voyage feature of community lot weddings and then they'll go on a honeymoon.




I'm also at the very end stages of finishing up my Walker house for download. I made it for a contest but it had so much custom content, it was never feasible to put up for download. However, now I have it decorated in mostly Maxis and hope to get it up soon. Here are some pics.




And to clear up some misconceptions. If this applies to you, you will know it. If it doesn't, don't worry about it. I did not leave by choice, my access was disabled and never re-enabled. Just so you all know the truth.

I'll end discussion of that topic with the words I tell my teens, "The only person you have to live with forever is YOU. Make sure you can live with your decisions and actions."

August 4, 2007

I'm obviously on a hiatus from simming or creating. It's going to be awhile before I get back to it. I decided to take the Law School Admission Test in September and then apply to law schools for the fall of 2008. So cheers, and happy simming to all!

May 12, 2007

Download some bedding recolors and some files to make custom paintings!

May 9, 2007

My second attempt at a sim video.

A cowplant tragedy

March 31, 2007

SimStateDorm by Gethane. Made specifically to fit in to the Sim State University. As seen on picture 6, I had to move the rock and the tree grouping over just a bit while in the neighborhood view to fit the dorm across from the coffeehouse. Siding and walkways are the same as used in Maxis-made Sim State buildings. Get the rug I used (maxis recolor by me) here




SimStateDorm by Gethane

March 10, 2007

New farmhouses I'm working on. These will be on larger lots to accomodate Seasons items and gameplay. These are still in draft form. Oh, how I do love thee, individualroofslopeangle xx.




March 10, 2007

Maxis Recolors: Room in a Box by Gethane! Third in a series.

Floral Love




February 23, 2007

Maxis Recolors: Room in a Box by Gethane! Second in a series.

Bare Branches with Maple




February 23, 2007

I got distracted while working on house decorating and strayed off into making some maxis recolors. Stunning, I know, that I could possibly be tired of using only Maxis items after using them for *only* 7 months, but there it is. I wanted something different and didn't want to contact 18 different people getting permission to use theirs.

So, without further ado, Maxis Recolors: Room in a Box by Gethane! (Mr. Rib - I'm too funny, right?)

Tan-Stripe-Bravo RIB




February 13, 2007

3rd in new HOME series - Humble Only Maxis Environmnets.
Cordial HOME




February 6, 2007

2nd in new HOME series - Humble Only Maxis Environmnets.
Benign Home




February 5, 2007

1st in new HOME series - Humble Only Maxis Environmnets.
Affable Home




February 4, 2007

Coming soon! HOME series - Humble Only Maxis Environments

January 30, 2007

My first video showcasing my favorite male sim, Kyle Walker, can be found here

January 24, 2007

You can download my newest lot here, on the official Sims site, Insiminator, or at MTS2.

January 2, 2007

Happy New Year!

I have finished my 3x1 maxis only lot! It has a driveway, small landscaped yard, basement, a spaced out exercize room, 2 bedrooms (combo nursery/child's bedroom), 4 bathrooms, and is decorated for Christmas and pet ownership. The Christmas items were the 2004 Maxis downloads and will be included with the package (as a choice). It'll take me a bit to finish up the package cleaning process and reinstalling to make sure all works as planned. Interior pics and closeups coming soon!