July 20, 2008

I don't know when, or even if, you'll see anything more from me. I start law school in less than a month and my hard drive crashed DEAD on Friday. I lost everything: family pictures, law school info and application materials, and my sims. I hadn't done a full backup off my computer since Sept 07 :(. I have no plans to take my site down.

July 14, 2008

A maxis chair recolor that I entered in a Simvention contest. Click on the pic to download.




July 11, 2008

Well, my husband is gone. He's in California without us in a subletted room. He started his job on Wednesday. He loves it. Loves ****, loves the people he works with, the weather is beautiful today, loves the food. Yada, yada. I'm still in Nebraska, trying to deal with 5 kids, packing and moving, and all the things associated with it. Since I miss my hubby, I'm uploading a male sim I packaged up for a friend. Meet Dane Strickland. Click on the pic for download page and more pics.




June 22, 2008

I got it in my head to recolor the Rattan/Bamboo Loveseat and couldn't stop and ended up with a new Room in a Box! Click on the pick below to go to the download page.




June 15, 2008

I entered a fun challenge on MATY to redo a maxis house. Click on the pic below for more pics, to download, and a link to teMATY thread:




June 5, 2008

My dh got the job that he flew out to interview for! So he'll be moving in early July, with me and the 2 or 3 kids that are coming with, to follow in late July. That's the plan now anyway.

I'm really feeling weepy about leaving my 15 and 17 year old teens. They don't want to come with though, and I'm too old to put this off anymore. They'll be with their dad, my parents, my inlaws, their friends, and we're planning at least 3 trips to visit over the school year with longer visits in the summer. Sometimes there is no good decision, just a bunch of less than bad decisions ya know?

June 2, 2008

This was my entry in a fun contest at simvention. She's just called Sister Nevmis and it was a contest to create the brother of Noit Nevmis (simvention backwards *grin*). CC was obtained at MTS2 (search by creator name below) booty (for hair) and Adele's website. Without further ado, click on her pic to download:




May 30, 2008

And unexpected twins Beck and Bella, and Corinne. I'm afraid to play my other houses!

May 26, 2008

It's baby week in my neighborhood! This simweek has ushered in A.J., Pearl, Komet and Melinda. And there's more to come.

May 23, 2008

I just love this picture. Kate (Walker) and Clark (Rowley), children of my 2 most favorite sims, got married.




And I have to stop myself from turning this one into a LOLcat type picture with the addition of "Nom, nom, nom, nom." Isn't he yummy?




And some gratuitous honeymoon shots:




Awwww! They are wearing matching honeymoon clothes. Oh, come on, everyone has seen people do it. You might have done it :)




May 18, 2008

To see individual Sunny Day bedding pictures and download the Sunny Day bedding recolor pack, click the picture below.




May 15, 2008

Wow, a week. Sorry about not getting that bedding up. My dh was asked to fly out to interview for a job in Cali and so the last week has been full of priceline bidding, suit buying, and various other short notice travel arrangements. He flew out today along with my middle daughter who's going to tour the high school. Hopefully, I'll get back to that bedding soon. It's all made, just need to take pics, zip, upload, make page, etc.

I entered a fun contest, again at Simvention, to make a tropical picture for their monthly magazine style covers. I had lots of fun decorating a tropical beach lot. Here's some pics that I didn't enter:






And the male model, Dale Lamont:




May 8, 2008

Sunny Day bedding pack made to go in the Sunny Day Fitness Dorm coming soon! Hopefully, I'll have it up tomorrow.

May 4, 2008

New dorm for download! I've been running sims through Uni for what seems like forever and I got tired of my two dorms so I built a new one. All expansions are required and I used a couple of items from the Kitchen and Back Stuff pack as well. Click the pic to go to the download page.




May 3, 2008 - continuation of the May 1 and 2 updates below.

I have 3 Walker households currently, the family home where Kyle and Keegan and family live, Kaley lives in another house with her husband Jason, and Kate lives downtown in a little studio though once Clark gets out of uni I'm not sure what will happen. Kaley and Jason have been trying unsuccessfully for a few simyears to have a baby. Next round we'll see what the addition of ACR does for their chances.

At the main house, we start off with a duet by Keegan and Sunshine. It's a converted Life Stories object, a home (small) karoke machine.




Kyle brought home Charlie from work. Oh what am I going to do without these guys when they pass on to the digital paradise in the simSky?




Kyle is just as active in his grandchildren's lives as his grandmother Katie was in his. Kyle and Kris share a quiet moment on the couch.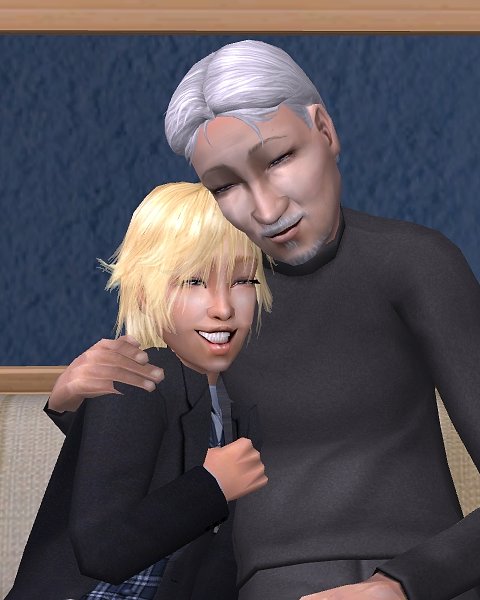 Upon returning home from work early one morning, Keegan decided to take a quick look through the telescope and experienced what his father Kyle experienced so many years ago. (I was thrilled! This was just a regular abduction, not a Free Time summon aliens abduction.)




Though surprised, Keegan couldn't be any happier about the upcoming happy event.




My session with the main Walker house (and my current neighborhood round) ended with Keegan and Sunshine's twins, Kris and Kade, having a birthday. Not too shabby. When next I visit their house, Keegan will shortly be giving birth.




I also spent some time sifting through and organizing my hair files. Now every style is in a folder with a picture and I took out about a third of my styles. I'm still playing through a Uni round and have 3 more to graduate so I'm not technically done with my round but I will be soon. I'll be flying through the next round to get back to the Walkers and Keegan's upcoming birthing. Thanks for reading!

Oh, almost forgot. Still working on that new dorm:






May 2, 2008 - continuation of the May 1 update below.

Faith returned home and had an engagement party with Kent (Walker) and his family.




Gratuitous Robi pic:




And then a wedding. I don't think this is necessarily going to be a good pairing. Faith is a fortune sim, Kent a romance sim. And Kent and another one of my playables who just went to uni have 3 bolts. Since I just recently put in ACR (autonomous casual romance) by twojeffs, this could get interesting. I think this picture is so cute, the happy couple having cake with Kent's mom (Madelaine) and Faith's dad (Robi). Unfortunately, Robi and Kent don't actually get along very well and I have to keep an eagle eye to avoid fights.




I had to add on a partial third floor to the Old Library where the Charvat's live to accomodate the future generation. I tried a rooftop garden, but alas, the plants all seem to grow mid-air so I'll have to try something else.

On to the weird house, Ian, his wife Meadow, his vampire sister Genevieve, the zombie Nanny Mattie, and their three boys, Indiana, Ivan and Immanuel. Not much happened here this time. My vampidemic appears to be over after isolating which hack was malfunctioning to produce it (entertaining though it was, the whole neighborhood would have soon been vamped). Immanuel grew from baby to toddler and Indiana went off to uni and promptly developed a tendre for a much older woman, Pauletta Dupres.




The only excitement at Hannah's house this round was Heather moving to uni. Heather is a romance sim and fitness buff and heaven help us all if Heather and Kent ever get a moment alone now that ACR is installed.




I had a houseful at uni this round! I'm a little tired of my dorms so I'm in the process of building a new one with some of the FreeTime sports stuff.




Josie graduated from uni and returned to her mother Maria's home, even though they really don't get along. They are trying to repair their relationship.




Josie isn't very happy about her mother's affair with a professor at uni and Maria isn't very happy about Josie's relationship with their gardener Leo. If only her father Jackson was alive to set her straight!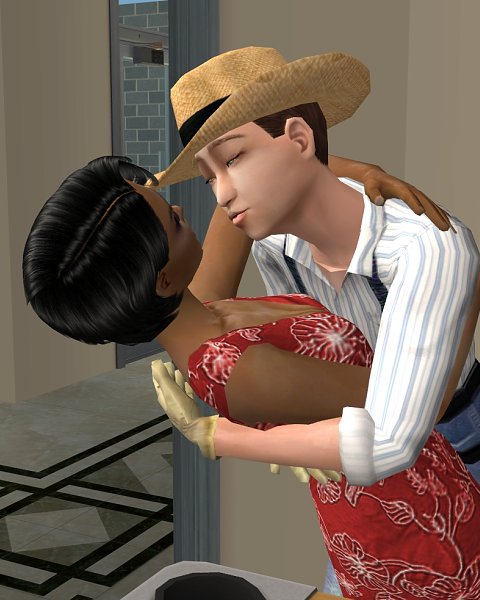 Coming soon, today or tomorrow, on to the Walkers!

May 1, 2008

Ok, get ready, this will be a long and picture filled update.

It's been almost 2 months since I've actually played the sims and a month now since I entered the recoloring contest at Simvention. So let me blather on a bit about my sims. I'm a little distressed now at the thought of being unable to play them while in law school.

Abigail (daughter of Aaron Swanson, 1st born of 10) married the grocery delivery girl in a lovely ceremony in which the brides wore coordinating evening dresses.




I think I'll use twojeffs same sex pregnancy hack so they can have a biological child.

I sent Clark Rowley (brother of Chloe, son of Charlie Swanson Rowley) off to college early because he just couldn't wait for Kate Walker (sister of Keegan, Kaley, and Kent; daughter of beloved Kyle) to finally see him as an adult. He's had a crush on her forever. First meeting after his birthday was sweet.




Poor Chloe returned home from college just before Clark left and had a very bad start to her adult life. On the same day she was fired and then chased by bees.




Deanna (daughter of Debra Swanson Stickley) returned from college and had a much more pleasant return than Chloe. I see wedding bells in the future!




Her brother Dane, however, has been getting busy getting in trouble.




Moving on to Ethan's house, we begin with a teen birthday for his daughter Ella...




And end with Echo going off to college. He's another soon to be favorite I think. This boy loves to dance. It's not his one true hobby but he does it every chance he gets. He's won a dance competition and is almost maxed in enthusiasm. Echo is having a bit of trouble in the love department at uni, however.




More to come. I'm beat and need to get some zzz's.